Ch. Chelsea Summer Blonde, HIC
"Camille"
June 13, 2001 - January 7, 2014
Hips OFA Excellent!! CO-2236E24F-PI
CERF #CO-1721/2004--35
DNA Profile #V226327
Non carrier for Canine Cyclic Neutropenia (cleared by Parentage)
Rod-Cone Dysplasia Type 2 (PRA) - non-carrier (cleared by Parentage)

   

The picture above was taken a week before she died.... Beautiful til the end.......

Said goodbye January 7, 2013 to the most wonderful Collie........ A more perfect Collie in body and spirit never lived.
Sadly she was diagnosed four short weeks ago with bone cancer (in the upper left arm), following about 6 months of on again/off again limping. Last June she had just celebrated her 12th birthday when I noticed she was occasionally favoring her left front leg. I figured she had injured it because even at 12 she could run around with the best of them, keeping up with all the other younger Collies. Otherwise she was absolutely in the best health possible and did not look even close to being 12 years old!! By August the limp/favoring was becoming more noticeable so I took her into the Vet. The Vet went over her and decided she had possibly pulled a ligament. We didn't suspect anything very serious, so did not do X-rays. She was put on Rimadyl and Tramadol. Both seemed to help......at first. By Thanksgiving, I could tell she was not improving and indeed the favoring of the leg was becoming more pronounced. I talked with the Vet about increasing her Tramadol. About two weeks later I came to the sad realization that something was seriously wrong because she was getting worse by the minute. Made a Vet appt. This time we did X-rays. The X-rays clearly showed damage to the end of the bone and about the top fifth of the upper left arm. What a shock......bone cancer was not even on my radar. The Vet was pretty sure that's what it was. In my heart I knew she was right, but we went ahead with blood work (so as to rule out infection) and we did a fungal test. Her blood work was perfect ......on paper she was the picture of blooming health. And of course the fungal test came back normal. That left only one option.....bone cancer. Following much Internet research and in talking with my Vet (who happens to be very well versed in the matter), basically there was nothing that could be done other than pain meds and trying to keep her comfortable. This was Friday December 13, 2013. Prognosis..... my vet said she would be surprised if she made it a month. My heart was broken.......

A little bit about bone cancer.......Collies are not known as high cancer risks and that has been my experience. Bone cancer typically shows up in middle-aged dogs, 6-7 years of age. Usually by the time bone cancer can be seen on X-rays, it is already too late. Once diagnosed, it spreads quickly and can be very painful. The treatment of choice is limb removal followed by Chemo. Even if she had been 6 or 7 years old, I am not sure I would have put her through leg removal. Even under the best of conditions, the surgery typically buys the dog 4 to 18 months. I knew at 12½ years there's no way I could entertain removing her front leg.

At first the Tramadol increase was really helping, but within a week, we put her on Gabapentin (a stronger pain medication typically used in Cancer patients). At first, it seemed to really help. By the end of two weeks she was up to the maximum dose of both Gabapentin and Tramadol. She was starting to have a trouble getting up and once up, was having difficulty navigating. I was afraid she was going to start falling. The constant favoring of her front leg was starting to put pressure and undue hardship on 12½ year old rear legs. Ironically her appetite was great......in every other way she was still perfect and absolutely beautiful.
She had a really rough night on January 6 (she was very distressed and could not get comfortable....she was not putting any weight on the leg at all). She had been such a trooper through all this but that night she was really starting to show great pain and discomfort. She was panting heavily. I almost took her to emergency that night. I ended giving her the pain meds a little early, which really seemed to help and she settled down and slept peacefully through the night. But next morning....I knew in my heart, I was coming to decision time. I talked with my Vet. Sadly, we were out of options for any further treatment and she was just rapidly getting worse. It was so hard to watch her deteriorate so quickly while realizing I had to make a decision. Finally I decided yesterday that we had come to the end of the road. I put her to sleep yesterday January 7th at 4:00 pm. Following 46 years of dog ownership, I have had to put to sleep a lot of dogs over the years. It's never easy, but some are always worse than others. This was one of the hardest I have ever had to do. It was devastating...............

I considered Camille (and her older sister Wendy) my new beginning, following a breeding program that had become stale and outdated during the 1990s. I purchased her mom Betsy (Ch. Chelsea Charidan Carte Blanc, ROM) in 1997 with the express purpose of breeding her to Ch. Chelsea the Crown Prince. From the start I just knew they were meant for each other. The combination produced 7 rough champions and I might add, some really nice ones! Camille came from the 2nd breeding whelped in 2001. I kept Camille and her sister Natasha (Ch. Chelsea Sunshine Girl......better known as Don's girl). Not sure why I kept two because I already had the older sister, but I am glad I did! Camille quickly became my favorite. Collie temperament doesn't get any better. Not only did she do well in the show ring but she became the perfect pet and house dog. She was so special right from the beginning that she somehow charmed her way into being one of the housedogs at a really young age. She is one of the few dogs I have owned over the years that never did one single thing wrong in her entire life! I never thought Camille would be the first of the three sisters to go. Already I am missing her so much......... They say time heals......But for now that doesn't help ease the pain
The only consolation is I have several closely related descendants living on here. I have her daughter, a granddaughter, a grandson, and three young great granddaughters that trace two times to her. Basically everyone here is her descendant (except for her two sisters). So I am very thankful for that.
Ironically this is only the second case of cancer in 46 years of the personal dogs I have kept/owned. Double ironic is that both started with a limp! Who knew limping could be the start of something so devastating??? Thankfully at least Camille lived a long healthy life (too short actually), but for a Collie, 12 years 7 months, is considered a good old age. Because she was in such good shape physically and was in such good health, I figured she would at least see 13 or 14. But alas......not meant to be. She will remain one of my all time favorites following 46 years of Collie ownership. They just don't come any better!! Sleep well my sweetie.....at least you are no longer in pain.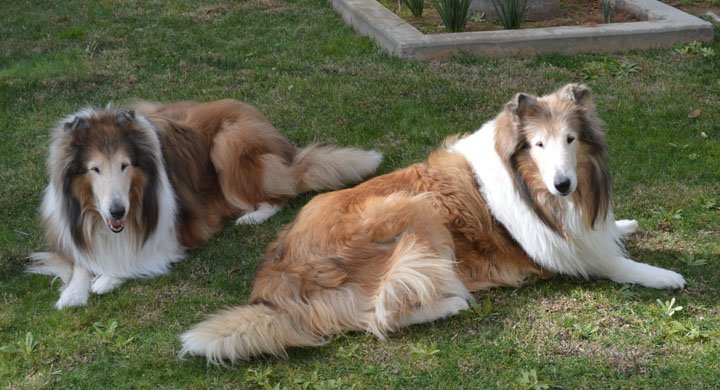 Taken January 7, 2013 - Camille and her daughter Greta


---
 
Camille's "Collies Online" ad - November 17, 2012
Dam of two champions + another close to finishing!
FLASH! Her great granddaughter, Ch. Chelsea California Gold just finished her championship!!
We haven't had many puppy flyers, but Camille did us proud by winning three majors from the puppy class! This typey, sound and stylish bitch finished her championship with four majors and numerous Best In Sweeps, BOS in Sweeps and Best Puppy awards. Not only did she finish before turning 16 months, but she was a dominant presence at all the top west coast specialties during the time she was being shown! She was Breeder/owner handled all the way!
On April 27, 2002 Camille passed her Herding Instinct test, along with both her sisters and her dad under tester Linda Rorem!
---
On November 19, 2004, Camille whelped a litter of 6 sired by Ch. Barksdale Lochlaren Liaison, ROM
Ch. Chelsea CoCo Chanel - Greta completed her championship with 4 specialty majors in 2008!
Ch. Chelsea Major Obsession - Buddy finished his championship in 2010!
Chelsea Evening in Paris - Garbo has 5 points, including a specialty win and several major reserves. Owned and spoiled by Dorothy Hull of San Jose.
Chelsea N Squire Film Noir -Gable is owned by Tim & Marilyn Mothersell. In 2012 he was shown for the first time since he was a puppy. Just a couple of weeks shy of turning 8 years old, he won Winners Dog for a big 5 point major under Roz Durham. He currently has 9 points both majors!
Congratulations to Camille.....she is a grandmother! Her daughter Ch. Chelsea CoCo Chanel whelped a litter of 9 on February 1, 2009! And.....her son Ch. Chelsea Major Obsession sired an all tricolor litter ex Ch. Chelsea Midsummer Classic on February 12, 2009. Her granddaughter, Ch. Chelsea Blonde Bombshell and grandson Ch. Chelsea Casanova Cowboy just finished their championships, each with a 5 point major!!
And in 2011 Camille became a great grandmother!!

An informal picture of Camille taken at 11 years old! This puppy flyer has actually gotten better with age!

Camille pictured in November 2004, right after whelping her litter of six (two of which became Ch's!)

Camille is shown on the January 2004 cover of Collie Expression's Magazine!

A multiple Sweeps and Best Puppy winner, she is pictured going "Best In Sweeps" under Kathie Segura-Bazell. She went Winners Bitch for a major the same day (her third major from the puppy class!). She always showed her heart out and was a breeze to handle, making me look good! She was never handled by anyone else.
Camille represents 38 years and our 9th generation, in our limited breeding program, that began in 1972 with the purchase of our two foundation bitches-- Chelsea Evening Elf (a sable daughter of Ch. Gingeor Jack of Tamarack) & Marnus Chelsea Morning (a tri daughter of Ch. Gingeor's Indelible Choice) --leading to our first homebred champion, Ch. Chelsea Gold Mist, whelped in 1973. Camille & her littermates not only trace multiple times to these bitches, but also to the many specialty winning champions we have bred over the years. Her dam Ch. Chelsea Charidan Carte Blanc, HIC, ROM (Betsy) was purchased with the express purpose of incorporating her bloodlines (Southland & Countryview) into the foundations we started with 40 years ago. Betsy herself finished with 4 majors (owner-handled all the way). She is the dam of 7 champions and recently acquired her "Register of Merit" title.

We concentrate not only on physical beauty, but on health and temperament as well. We support all health screening and routinely check our dogs' eyes, hips and thyroid!

Camille at 9 weeks
Click here for Camille's Pedigree
---
Or VISIT