Grissom made his show debut in February 2011 at the San Diego Collie Specialty at 8 months old - he won Best In Sweeps!! In just 6 shows as a puppy, he won his first points, two major specialty reserves, numerous Best in Sweeps and Best puppy! Breeder/owner handled!
He returned to the ring at the San Diego Specialty in February 2012, where he went WD & BOW under longtime breeder judge, Bob Futh. He followed up with another WD & BOW for a major at the High Desert Collie Club!! One of his daughters, "Chelsea Twilight Time" (Rihanna), made her debut at those shows and garnered a major reserve and Best Puppy at the morning show and was 1 of 3 pulled for Winners Bitch at the afternoon show!!
Fall of 2012 - just coming back into coat, I entered Grissom on a whim at the Southern Cal/Los Padres Specialties. I was mostly going to the shows in hopes of getting the 1 point needed on his half sister Harlow. In spite of not having a lot of coat, he picked up another 4 point major, (and two major reserves), giving him a total of 14 points with 3 specialty majors!!
At my final set of shows for the season (due to my judging at the Collie National in 2013), Grissom garnered another major reserve at the first show of the Northern California specialties. But the best was yet to come.....on the last and the final day of the weekend, he finished his championship with a 5 point major, going Winners Dog, Best of Winners and Best of Variety....onto Best of Breed from the classes over 20 rough and smooth champions under judge Vivienne Richards! WOW! What a way to finish! Not bad for the yearling male who mostly went along for the ride....while thinking he really still needed another year or two to grow up!
Grissom was owner/breeder handled to his first 7 points, but when I finally realized I could not do justice to this big boy when moving him, I hired a handler.....something I normally don't do. Heather Newcomb handled him the rest of the way (putting 3 specialty majors on him) and she did a beautiful job!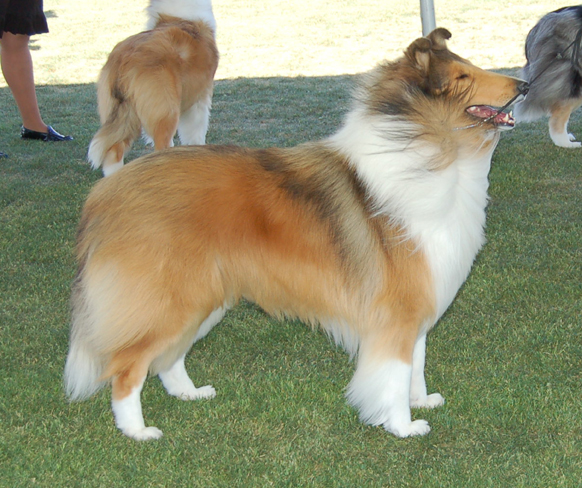 A ringside photo taken at the High Desert Collie show, where the wind was blowing almost 60 mph!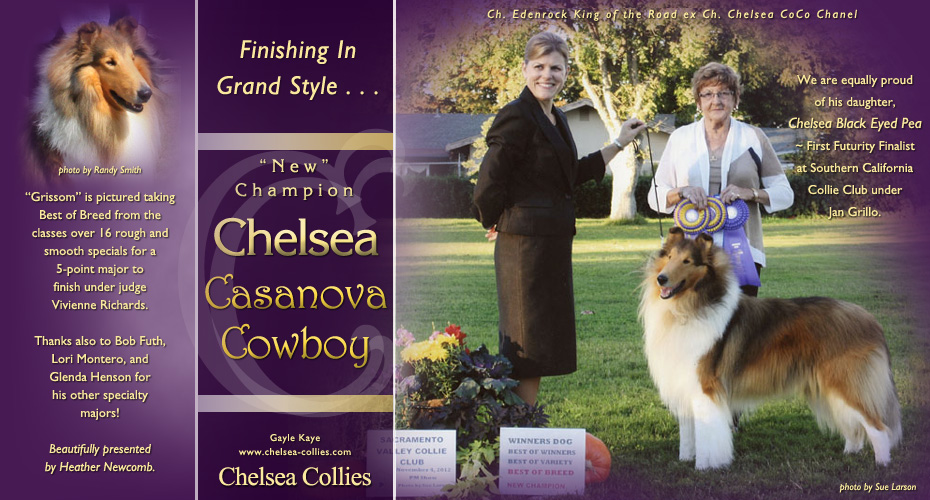 Grissom's "Collies Online" ad - November 17, 2012
Just coming into coat, Grissom is pictured winning BEST OF BREED from the classes under judge Vivienne Richards
Picture taken at the Ventura shows where Grissom won a 4 point major (in addition to 2 major reserves that weekend).
---
Congratulations to his kids owned by us. We have five beautiful daughters, 4 of them champions!!
CH. Chelsea Black Eyed Pea - In 2012, she was First Futurity Finalist at the Southern California Collie Club (her only show in the Fall of 2012). She finished her championship from Bred By with three Specialty Majors. ex Chelsea Diamonds and Pearls
CH. Chelsea Twilight Time, VCD1 CD TD AX  OAJ - Major Specialty Reserve & Best Puppy 1st time out. Gabi spent the last three years tearing up the performance ring! She got her CD title in 3 shows; two tracking titles in her first attempts; and several agility titles!! She finished her championship in the Fall of 2016...all from Bred By!! (co owners with Jeannette & Tom Poling) ex Chelsea Diamonds and Pearls
CH. Chelsea California Gold - Best in Match at 3 months old (South Bay Collie Fanciers). First Futurity Finalist, Southern California Collie Club Fall 2013 show. Winners Bitch and Best Opposite Sex to Best of Breed at the Southern California Collie Club 2013 Fall show. Won 3 out 4 shows entered at the Dixon specialties. Finished with all specialty majors in 6 shows during a two week period...all from the Bred By class!! ex Chelsea Diamonds and Pearls
Ch. Chelsea Pop Princess - in the Fall of 2014, Whitney won the Southern California Collie Club Futurity at barely 7 months old. A year later she finished with a third specialty major at the same show. Shown exclusively in Bred By. As a move-up, she garners a BOS to BOB her first and onlt time shown as a special! Her dam is Ch. Chelsea Blonde Bombshell
Chelsea Chantilly Lace - Her only time shown, Amelia won her first point with a WB & BOV! ex Ch. Chelsea Blonde Bombshell
His granddaughter......Chelsea California Girl