Ch. Chelsea The Crown Prince, HIC
1996 - 2007

Chelsea City Squire,CGC ex Chelsea Blonde Ambition
OFA # CO-1620E24M-T ~ Normal Thyroid ~ CERF #CO-1377/2001--65 (Normal eyed)
DNA Profile #V22413 
Also a noncarrier for Canine Cyclic Neutropenia # 24412-1
Rod-Cone Dysplasia Type 2 (PRA) - non-carrier

Sire of 10 ROUGH CHAMPIONS (only sired 4 litters!)
and others with points!





Sadly we had to say goodbye to
    Bailee....
Bailee
Bailee finished his championship with specialty wins and back-to-back Best of Variety wins, under specialty judges and all breed judges, by the age of 3. Owner handled all the way! On April 27, 2002, at the age of 6, he passed his Herding Instinct Test.
NEWS OF HIS KIDS AND GRANDKIDS!
THREE Champions finished in 2007!
His daughter Ch. Chelsea Sunshine Girl completed her championship in late 2007 with 3 specialty majors! Congratulations to his daughter Ch. Foggy Bay Ruffles Have Ridges (owned by Diane Parness of FoggyBay Collies) who also completed her championship with 3 majors in June 2007. Her brother, Sawyer is now CH. Foggy Bay Sentimental Journey, PT, RE! Ch. Swan's Au N Phoenix Rising, OFA CERF finished with back-to-back four point majors! Bailee's son "Sweet Baby James" (UAG1, UCD Let Your Light So Shine, HIC, CD, CGC, TDI, RE, OFA excellent, ptd) not only has a gazillion titles, but he is seen all over the country dancing with his owner Toni Bailey.
In their prime, Bailee's kids did lots of winning. Ch. Chelsea Elegan Crown Princess, HIC won back-to-back Specialty Best of Breeds, at her first shows as a Special! She also has some nice group placements including two Group 2's over tough competition! And.....Bogart (Ch. Chelsea T' Crown Heir of Squire, HIC) was a multiple Best In Specialty winner, Best of Variety winner and had many group placements!
Bailee's granddaughters residing here: Ch. Chelsea Midsummer Classic (Diva) finished her championship in 2006 and Ch. Chelsea CoCo Chanel (Greta) finished her championship in 2008 with four specialty majors! Both Diva and Greta finally had litters at the beginning of 2009 and we kept a tri bitch and a sable bitch: Chelsea Diamonds and Pearls (Hannah) and Ch. Chelsea Blonde Bombshell (Harlow)! Both are double-ups on Bailee!
We are now working into 4 generations down from Bailee. His three times great, great granddaughter, Ch. Chelsea California Gold just completed her championship!
Pictured in summer coat at the age 3
In his lifetime, he only sired 4 litters. From litter #1, (4) have finished their championships. Litter #2 did equally as well and produced a spectacular once in a lifetime puppy bitch, Ch. Chelsea Summer Blonde, HIC. She finished her championship at the age of 16 months with 4 majors and multiple Sweeps wins -- all under breeder judges and owner-handled all the way (3 majors from the puppy classes!)! See her on the January 2004 cover of Collie Expressions Magazine!!! Her litter sister Ch. Chelsea Elegan Crowning Glory, finished her championship with 3 majors! Another littermate Ch. Chelsea Sunshine Girl finished just this month with 3 specialty majors! From Bailee's third litter (a chilled semen litter), Ch. Swan's Au N Phoenix Rising, OFA CERF just finished his championship with back-to-back 4 point majors. Another littermate is tearing up the agility ring and also has conformation points. Litter #4 was whelped two years ago at Foggy Bay Collies and Ch. Foggy Bay Ruffles Have Ridges just completed her championship with 3 majors!!! Way to go Lucy!
Over the last 7 years, his kids and grand kids have won Specialties all over California. They have won Sweeps, multiple Sweeps Runner-up, Specialty majors (too numerous to list), major reserves, Best of Breeds, BOS to Best of Breeds, Best of Varieties and Group placements. On more than one occasion, his kids have gone both Winners dog AND Winners bitch at the same show (including twice at specialties!)! At one Spring Specialty, his kids won 3 of the 4 Sweeps Finalists!
Many of Bailee's kids are normal eyed and are coming back with "Excellent" hip ratings. Plus they are more than pretty faces, since all of those tested have passed their HIC's!! Recently a son, received his CD at the Collie Club of America National Specialty!
His pedigree is based originally on the GinGeor family, combined with Sandy Tuttle's Arrowhill and later variations of Tartanside have been incorporated. To see a copy of his pedigree, click here. Not only have most of his relatives been owned by us over the last 35 years, but currently we have three of his daughters and three granddaughters running around here! He definitely left his mark on our small family of Collies and we will never stop missing him......... Fortunately we do have frozen semen so we haven't heard the last of him!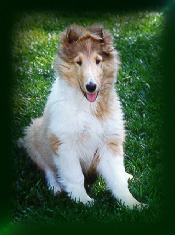 Our special little guy at 4 months!
He excels in attitude and enthusiasm!
To see pictures of Bailee's mom Madonna, click here
---
Back To Our Current Dogs
Or VISIT
CAILEAN'S PAGE
| CAMILLE'S PAGE | COLIN'S PAGE | BETSY'S PAGE |
BOGART'S PAGE
| WENDY'S PAGE | DIVA'S PAGE | GRETA'S PAGE | NATASHA'S PAGE
Back to Chelsea Collies Home Page
Back to Chelsea Collies