"Heather"
April 7, 1980 - June 10, 1986
Ch. Advantage of Arrowhill ex Chelsea Moonshadow (daughter of Ch. Chelsea Gold Mist)
A pictorial history of one of the most special bitches bred and owned here.......
Heather at 4.5 weeks
12 weeks
3 months old - A Cindy Alvarado watercolor done from a photograph
Best Puppy in Match
Also won Best litter
Judge Dorothea Sturm of Lick Creek Collies
4.5 months old
A major reserve at her first show at 8 months
4th Sweeps Finalist in the days when Sweeps entries were huge. This one had over 60 puppies
Judge Les Canavan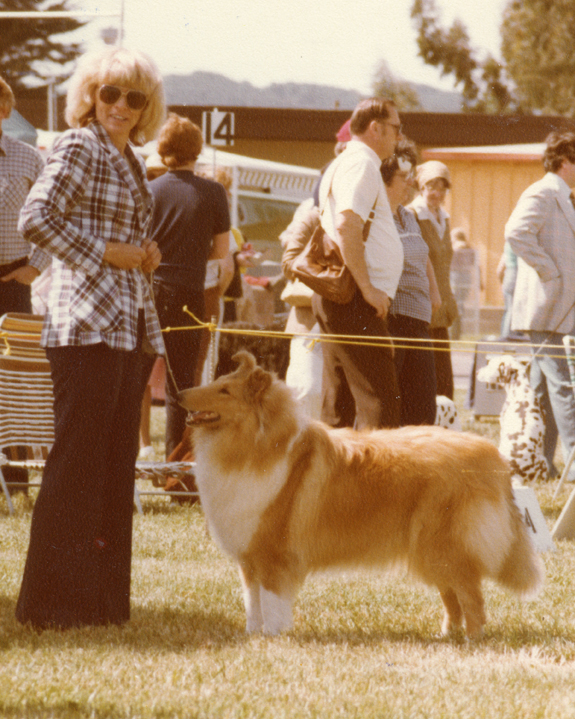 Her first points at a year old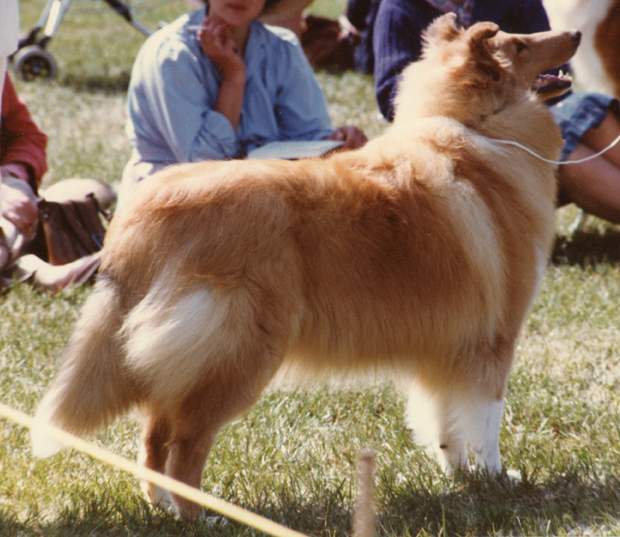 One year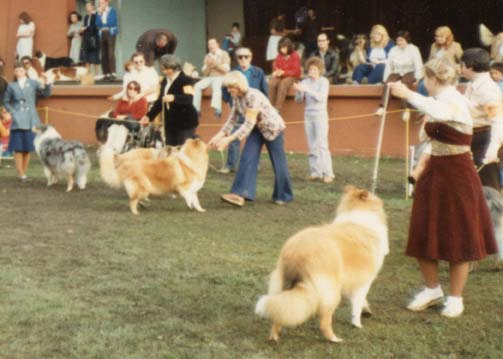 This was Heather's first major win at the San Joaquin KC in the Fall 1981. She won a major reserve the day before. My good friend Penny Basler is clapping right behind me and her daughter, Jill is at the end of the line. Jill ended up going reserve to Heather with her puppy "Flower" (Ch. Amberhill's Bouquet of Chelsea). Sadly, Penny died in a horrific car accident on September 30, 1988.........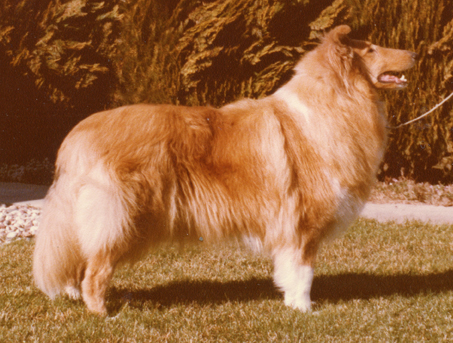 Picture taken right after completing her championship in February 1982.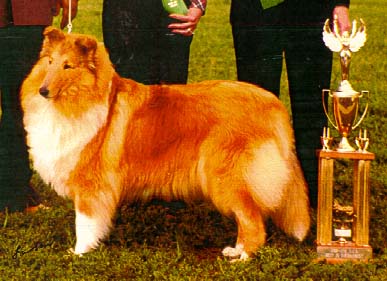 Her only time in the ring after finishing her championship was at the huge NorCal CCA Tournament where she went BOB over roughs and smooth champions and class dogs and bitches. We didn't take her to the National that year
Another picture from the Tournament. This was in the days before Collie exhibitors were doing body trimming. Heather would have been a great candidate for body trimming as she had tons of coat in the wrong places. She actually excelled in topline and neck, but you wouldn't know it judging by this photo. In those days we also did minimal head trimming.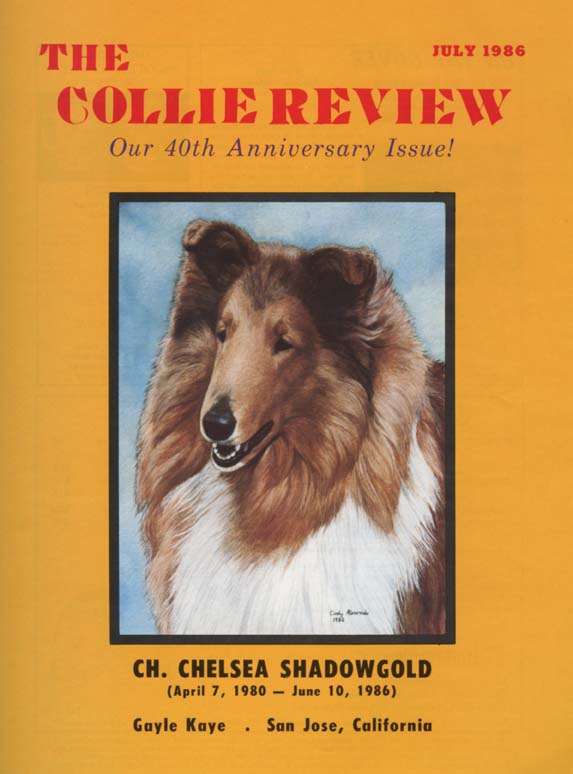 Her "Collie Review" cover.
Heather finished in 11 shows all from the Bred By Exhibitor class. She finished with three majors. Two majors were 5 point specialty wins in the days when Collie entries were huge. One of the 5 pointers came under one of my favorite judges; Ginny Holtz. At that show, Heather went onto BOS/BOV over specials. She finished two weeks later under Gwen Means at the California Collie Fanciers February 1982 show in an entry of 69 bitches. She always showed well and was very food motivated, but she could be a handful. She actually ruined her chances at the points on several occasions. One of her major reserves came under a well-known Sheltie judge. When she gave me the reserve ribbon, she told me Heather was her WB until she started acting up….grabbing my clothes was one of her favorite tricks as she went around the ring on two legs!! When she finished her championship, the judge couldn't catch us because Heather was busy galloping around the ring with me dangling at the end of her lead trying to get her under control (never did)!! Heather finished in the days when no one judging would have known me from the man in the moon and she finished in one of the hardest classes in those days. That was before all the hype of showing in Bred By! Even then, that was my favorite class to show in.
Heather was bred twice, but was never really bred to a male that I considered her equal. I had actually wanted to ship her to a male in the Midwest, but did not want to put her on an airplane. However, we were lucky enough to get 2 small litters and I kept a cute bitch from her 2nd litter - Chelsea Shadowlight (Nicole). Thanks to Nicole, Heather is behind all our current dogs and bitches.
Sadly and one of my greatest disappointments in my 40+ years of raising Collies was Heather's early death from Myelogenous leukemia. In November 1985 she came into the house one night limping/favoring a back leg. How serious can limping be, right??  When it didn't get better I took her into my Vet. He thought she had just hurt her leg so he put her on a round of Prednisone and it did get better. However the minute we stopped the Pred, the limp returned. Once again she was put on Pred and once again when the drug stopped, limping returned. At this point we did blood work and her WBC came back an amazing 30,000, which usually indicates massive infection somewhere in the body. Antibiotics did not lower the white count. Finally I took her to a Specialist/Internist. Long story short, after great expense  and a slew of tests and her WBC going to over 200,000, a bone marrow test verified the worst news possible……… Heather was diagnosed with one of the rarest and most lethal forms of Leukemia. A stringent schedule and several rounds of chemo actually put her disease in remission. However the drugs in those days were very potent and lethal and we eventually had to take her off of the Chemo. Her leukemia returned with a vengeance and sadly on June 10, 1986 I had to put Heather to sleep.  In those days this form of Leukemia was a certain death sentence, but today several new drugs have revolutionized treatment of this disease. Today we might have beat it or gotten a little more time, but not then. She was just the neatest dog and even though I put her through so much.....trying to save her life (none of which I regret), she was a trooper through all the Vet visits, medications and treatments. She had the most wonderful temperament and was one of the most special Collies I have had the pleasure to own. Even 27 years later, it is still hard to talk about and remains one of the biggest disappointments of my breeding career. At the time the doctors thought this particular form of leukemia was from exposure to something. I could never figure out what might have happened or how she was unlucky enough to get this dreadful disease.......