In the early 1970s I fell in love with an Eastern family known as "GinGeor". Thanks to seeing many of these dogs in person and in pictures in the magazine "Collie Cues", I decided this was the look I wanted.
After much correspondence with breeders working with this family (including George Horn), in 1972 I purchased two foundation bitches that descended from most of the notable representatives of the GinGeor family. Many of the qualities that I still highly value today, are qualities the GinGeor family was known for....beautiful head detail, pretty faces, elegance and beautiful coats.
Unfortunately because of PRA rearing its head in this noted family, I was not able to carry out my breeding plans of breeding both bitches back into the GinGeor line. Instead both bitches were bred to Ch. Arrowhill Oklahoma Tornado sons. Both litters produced not only champions, but each produced a bitch to carry on. Both foundation bitches were placed in pet homes following the one litter. I decided it was better to continue on with their daughters until more was discovered about the gene and inheritability of PRA.
All of my current dogs trace multiple times to both foundation bitches!

Chelsea Evening Elf
"Tasha"
By Ch. Gingeor Jack of Tamarack ex a Ch. Parader's Golden Parade daughter
Much of the look that I came to love, (golden sables with beautiful faces), is because of this bitch with her pretty golden face!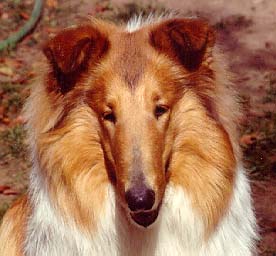 Tasha
Dam of our first Champion, Ch. Chelsea Gold Mist

Marnus Chelsea Morning
"Chelsea"
Ch. Gingeor's Indelible Choice ex Marnus Morning Star
Bred by Ron and Marcia Keller

Chelsea
Dam of 1 champion & dam of Chelsea Summer Breeze (dam of multiple champions & major point winners)
---
Back to About Chelsea Collies
OR
Contributors
| Champions | Future | Information
Back to our Home Page