The Story of Alstead Collies
~ Mrs. Clara Lunt (1874-1953) ~
By Gayle Kaye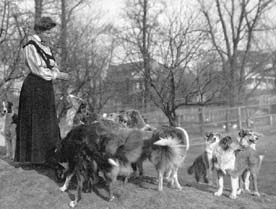 Mrs. Lunt, circa 1905 when in partnership with Miss Bullocke of Imna Collies


Any discussion of the Collie's early beginnings in this country has to begin with Mrs. Lunt of Alstead Collies, for this kennel is the whole key from which the American Collie emerged. When the American Collies' foundations were being built, Mrs. Lunt was right on the ground level. Not only did she appear on the scene in the early years of Collie development, but also she endured through most of the critical periods. It is no exaggeration to state that she was, in essence, the "mother" of the American Collie. She bred numerous high quality champions and imported more good English dogs than almost any other individual. More importantly, her studs dogs and brood bitches were a major factor in developing and establishing breed type in this country.

She was someone who did not draw a lot of attention to herself, unlike many of her peers. Largely because of this, she has never been given proper credit for her numerous accomplishments. In fact, on occasion she has been completely overlooked in early discussions of the history of the breed. What a shame, for not only was she the source upon which most of the early American Kennels were based, but she was directly responsible for several important developments that helped shape the destiny of the American Collie. With very few exceptions, Alstead was based on the best bloodlines that England had to offer. Without the quality dogs she imported and the very timely breedings she made, the American Collie would not have progressed as quickly as it did. Thanks to Mrs. Lunt's influence and contributions, by 1925, the American Collie was well on its way to surpassing the quality of the British dogs. In addition to her breed accomplishments, she was a generous person who gave very willingly of her time and knowledge. Many early breeders, such as Florence Cummings of Arrowhill, considered her a mentor.


Not much is known about Mrs. Lunt, as research material is almost totally nonexistent. She seldom wrote articles, so her theories on Collies in general and breeding in particular are forever lost to the fancy. Few pictures exist of her and the ones that do are mostly ringside shots. What is known, is she retained a life long love and affection for the Collie.
The earliest Collie, Alstead Monty, purchased from an early breeder John Black, was shown in 1902. The first champion was Ch. Alstead Mona, a sable bitch who finished in 1906 and the last one bred at Alstead was Ch. Al-LO-Way Assault, a sable male who finished in 1947. All in all, she was the breeder or owner of close to forty champions. She won all the largest and most prestigious shows, including Westminster and the National Specialty many times over. Her homebreds had the distinction of being the first American-breds to win at Westminster in 1914 and 1917, in the days when that show was completely dominated by English imports. In 1916 her kennels housed 6 champions. This was some kind of record because at the time only 8-10 dogs were finishing per year. By 1925, many of her homebreds had surpassed all previous records set by other kennels. No one, at that time, enjoyed a more prominent or highly respected position in the Collie world!
Early pictures show very correct, typey dogs with beautiful heads, many of which could win in the ring today. Most of her dogs were sable, but she had a special fondness for the blue merle. One of her greatest disappointments was never finishing a blue merle champion. In spite of this, several of her homebred blues played a small role in the formation and development of merle bloodlines in this country. Twice during her long association with the breed, for reasons unknown, she dissolved her entire kennel, with the exception of a few favorites--usually the older house pets. However, she could never stay away from the hobby she dearly loved.
Mrs. Lunt was an important person for several reasons. Not only did she successfully breed, show and promote Collies most of her adult life, but she is the source from which many other kennels began. It has previously been stated that Alstead did not produce a true and lasting type. Nothing could be further from the truth. Alstead stood the test of time, producing good, honest qualities, generation after generation. In fact, that is the key to the tremendous influence and success of Alstead. She put together a family of Collies of lasting qualities that blended well with just about all of the top bloodlines of the day.
Mrs. Lunt began in Collies in the early 1900's, in partnership with Miss Bullocke of Imna fame. They established their kennel on Long Island, but it wasn't long before the neighbors complained about the barking dogs. As a result, they were forced to relocate. At this point, the partnership dissolved, but they would remain close friends for many years. Mrs. Lunt established her kennel in Belle Mead, New Jersey on a 200-acre farm of corn and buckwheat. She would stay there until 1915 when she relocated her kennel to acreage in Rahway, New Jersey. There she would spend the rest of her life, producing the quality Collies that became the trademark of Alstead!
Money was never a problem at Alstead, thanks to Mr. Lunt's prosperous career as a stockbroker. However, importing the best from Great Britain required almost an endless supply of funds. It was not until her father died, leaving her a sizable inheritance that she was able to purchase the cream of the crop from some of the best known British kennels. She imported dogs such as, Ch. Alstead Parbold President, Ch. Alstead Seedley Satisfaction, Ch. Alstead Parbold Peepshow, Eng. Ch. Alstead Laund Luminous, Ch. Alstead Seedley Supremacy, Ch. Alstead Laund Leon, Eng. Ch. Alstead Laund Lally, Ch. Alstead Seedley Queen, Ch. Alstead Spotland Sterling, Ch. Eden Endora Of Alstead, Eng. Ch. Alstead Eden Emerald and Ch. Alstead Seedley Victorious. Most of these dogs would play an important part in her breeding program, as well as proving great overall value to the breed. The turnover in dogs was tremendous. When she obtained what she wanted in her own breeding program, she passed the dogs along to someone else, thereby sharing in the wealth. Most of them went to other prominent kennels. While she loved to win with the best of them, she considered herself mostly a breeder.

In the early years, she showed several different dogs, but few made any impact on future Collie bloodlines. During World War I she purchased two Collies from the Parbold kennels in England-one a gorgeous bitch, Ch. Alstead Parbold Peepshow and the other a beautiful male Ch. Alstead Parbold President. Both of these dogs were immediate sensations at the shows and quickly finished their championships. She also purchased the sable bitch, Ch. Southport Sumptuous. On occasion the disappointments were tremendous and overwhelming. Not only did Peepshow prove to be infertile, but Sumptuous died an untimely death after producing only one litter. Parbold President proved to be a major disappointment. Not only did he not hold his quality, but he failed miserably as a sire, when bred to American bitches. Fortunately though, before leaving England, he had already produced Ch. Seedley Satisfaction, who would figure prominently in future pedigrees. Eng. Ch. Laund Lally upon arrival was discovered to be blind and 2 bitches purchased from Laund kennels (litter sisters, Laund Lou & Laund Linda) arrived with their ears mutilated beyond repair.

When Thomas Hunter died in 1915, Mrs. Lunt went to the Knocklayde kennel dispersal and came home with several choice acquisitions, including Ch. Seedley Sylvia (the dam of Ch. Seedley Stirling) and Knocklayde Queen Bud (a supposedly barren female purchased for $5.00!) Along with the bitches came a young, relatively unknown, kennel manager named Mike Kennedy. With Mr. Hunter's death, he had lost his position as assistant kennel man at Knocklayde. He worked closely with Mrs. Lunt for several years before moving onto fame and fortune at Bellhaven kennels.

It was Mrs. Lunt's involvement in several significant events that helped shape the Collie's early destiny. It began in 1915 with the breeding of Knocklayde Queen Bud (a daughter of Ch. Seedley Stirling) to Alstead Adonis, a grandson of the beautiful Ch. Southport Sample. With this breeding she combined two great producing families that would figure prominently in the development of American bloodlines. The litter produced Ch. Alstead Aeroplane, Alstead Apple Blossom, and Alstead Adorable, and most importantly, it signified the true emergence of Alstead's very own quality breeding program.

In late 1916, she imported the well-known English winner, Ch. Laund Luminous, made available because of wartime conditions in England. With Mrs. Lunt's purchases and importations, the key was her timing and indeed, it is something at which she excelled! Luminous (linebred on one of the top-producing studs of the day, Ch. Southport Sample), sired several champions for Alstead, but proved his true worth when he sired Ch. Starbat Strongheart, owned by Bellhaven Collies. Strongheart was not only a top winner, but he was one of the first great American-bred sires, producing 13 champions.

The next important step in the creation of the Alstead line was in 1922, when Mrs. Lunt imported the very beautiful Ch. Seedley Queen. Ultimately, Queen would prove to be one of her greatest acquisitions. She finished her American championship shortly after her arrival, but of much greater importance, she was a top-notch producer. She is one of those outstanding bitches, who did not produce a bevy of champions, but rather, produced "key" dogs and bitches that collectively set the table for a major turning point in the advancement of the American Collie. All of this was done by the age of five years, at which time she died prematurely following the whelping of her last litter, by Ch. Alstead Spotland Sterling. Although Queen was owned in her later years by Katherine Underhill of Brynteg Collies, Alstead controlled her breedings and reaped the rewards of her many successful breedings. This excellent bitch produced three influential dogs and bitches, all sired by different males! They are, Alstead Aviator (Halbury Jean's sire) by Ch. Alstead Seedley Supremacy; Ch. Alstead Aida by Alstead Eden Emerald; and Ch. Alstead Adjutant from her last litter, by Ch. Alstead Spotland Sterling. These three descendants would forever assure Queen's niche in Collie history. Had she only lived longer, who knows what else might have been produced!!

Shortly after acquiring Seedley Queen, Mrs. Lunt imported the great English winner, Ch. Eden Emerald. Even if she had done nothing else, this one purchase would assure her a permanent place in Collie history. Emerald is one of the few English imports that sired successfully in this country, as well as his homeland. His use at stud was the definitive turning point for the American Collie. America's most noted kennels, such as Arken, Tokalon, Arrowhill and Tazewell, all used the prolific Emerald in their breeding programs. It was at this point that the American Collie began to emerge superior to his British cousins. By 1930, Mrs. Lunt felt that American Collies were the equals, if not superior, to any in the world. She was right on the mark and little did she realize what a significant role she had played! From that point on, English imports continued to diminish and the Americans breeders finally began producing their own quality stock.

All of these importations and breedings, their importance unknown at the time, set the stage for the future of the Collie.....leading to the great American kennels of the 1930's and beyond.
Alstead breedings would play a prominent role in the pedigrees of some of the most important Collies in the early history of the breed. The great Ch. Halbury Jean of Arken combined the best of the Alstead imports, along with the best of the Alstead homebreds. Not only was her sire Alstead-bred, but her dam was an American-bred Alstead bitch for several generations. Several years later, Jean's influential grandson, Ch. Future of Arken would once again combine the best of Alstead's many years of breeding. Future's pedigree traced in almost every direction to every breeding and importation made by Mrs. Lunt. Future's two sons (by half sisters tracing to Alstead), Ch. Honeybrook Big Parade and Ch. Sterling Stardust would continue the dominance into future generations. The story would be the same time and again for most of the early American kennels. When early bloodlines are studied, the Alstead breeding program is evident for several generations, mixed freely throughout the pedigree. With very few exceptions, almost every major American kennel utilized the best that Alstead had to offer, either through the Alstead studs or bitches, or through the very wise importations. This was her contribution and legacy to the breed.
On a personal note, Mrs. Lunt was a shy, energetic lady, easily liked and respected by most breeders. In a day and age of tremendous competition, she had few enemies. In an age when the dog fancy was almost completely dominated by men, this lady stood tall. She was truly a woman of great insight. Her knowledge of Collies and Collie-type was unrivaled. She was a lifetime member of the Collie Club Of America and served the club in many capacities--four times as President, numerous times as Vice-president, Treasurer and editor of the Yearbook. She was a distinguished judge for close to forty years. Beginning with her first assignment in 1908 until her last assignment in the 1940's, she regularly made the lists of most popular judges.
By 1950 activities began to wind down at Alstead. Remarkably she was just 76 and beginning to slow down. From this point on the breedings stopped and the shows diminished. She remained a dedicated Collie devotee until the day she died in 1953. She went out as she had lived her life, with little pomp and circumstance. Today hardly anyone is alive who remembers the kind, personable lady who did so much to help shape the destiny of the American Collie. To say that she was the whole key to the turn of events is no exaggeration, as Alstead is where the American Collie truly began.
Mrs. Lunt at the 1939 National Specialty, with the winners dog, Ch. Alstead Addition,
For other pictures of the Alstead dogs, click HERE
---